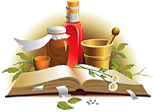 HOME REMEDIES FOR BRONCHI AND LUNGS
*Click on plant's name for more info!

Remedy against severe coughing
This herbal remedy will help you alleviate severe coughing.
Ingredients:
· One cup of milk
· Half a teaspoon of Sage
· One teaspoon of lard
· Half a teaspoon of sodium bicarbonate (baking soda)
Preparation:
Mix all the ingredients together and drink in sips during the day. You should drink up to three cups a day. Always prepare the beverage right before use.

Traditional Medicine