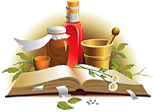 HOME REMEDIES FOR HEAD PAINS
Migraine headache
Remedy for Migraine headache No. 1
This combination of herbal and vegetable ingredients can be an excellent adjunction to your migraine treatment:
Ingredients:
· 300 grams (10.58 oz) of Carrot
· 80 grams (2.82 oz) of Dandelion
· 80 grams (2.82 oz) of Spinach or
· 150 grams (5.29 oz) of Celery instead of Spinach
Preparation:
Blend the vegetables in a blender to make a juice. Add Dandelion and drink the beverage once a day.
Remedy for Migraine headache No. 2
You can also try this herbal mixture:
Ingredients:
· 1 tablespoon of Lemon Balm
· 1 tablespoon of Peppermint
· 1 tablespoon of Valerian
· 1 tablespoon of Houseleek
· 1 tablespoon of Rosemary
· 1 tablespoon of Sweet Woodruff
· 1 tablespoon of Ground Ivy
· 1 liter of fresh water
Preparation:
Mix all the herbs together and store it in a container. You will need 2-3 tablespoons of mixture for 1l of tea. Put the fresh water in a saucepan, heat it until it boils. Take 2 to 3 tablespoons of mixture, put it in boiling water, and let it boil for 15 seconds. Remove from heat, cover the saucepan and leave it covered for at least half an hour (if you want a stronger tea, the steeping period should not exceed 1 hour). Strain the tea and drink it sweetened with honey. You should drink up the prepared amount during the day.
*Click on plant's name for more info!


Traditional Medicine