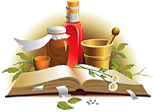 REMEDIES FOR SEXUAL HEALTH AND WOMEN'S DISEASES
*Click on plant's name for more info!

PCOS, infertility and menstrual pains
Thanks to the many beneficial effects Horehound has on the human body, this plant can be an effective ally in treating female health problems. For centuries this herb had been considered to initiate the normalization of female hormone levels. Horehound tea can therefore succesfully be used in treatment of hormonal imbalance. You can also use Horehound tea if you are suffering from menstrual pains. In addition, this tea can be an effective adjunction to treatment of female infertility.
Ingredients:
· 2 teaspoons of dry Horehound
· 2.5 dl of fresh water
Preparation:
Heat the water until it boils, and infuse the tea for 3 to 5 minutes. Drink it cold. Since the tea has a somewhat bitter taste, we advise you to drink the tea sweetened with honey. Drink 3 to 5 cups of tea during the day.

Traditional Medicine